What is FASTag / ETC?
FASTag is an electronic toll collection system operated by the National Highway Authority of India (NHAI). FASTag is a passive device and it works on the principle of Radio Frequency IDentification (RFID) technology which enables automatic deduction of the toll fee directly from the prepaid or savings account linked to it.
The tag is a sticker affixed on the vehicle's windscreen and information on it is passively read by the RFID reader at the toll plaza which enables cashless toll payments without requiring the vehicle to stop and wait in a queue. This RFID Tag is linked to either a prepaid card, savings account or a digital wallet.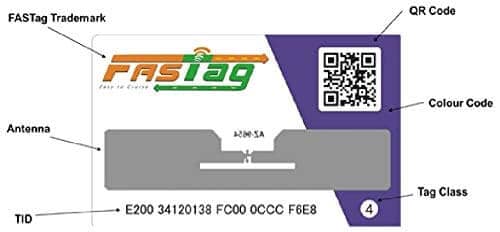 When a vehicle passes through the toll lane, an SMS will get generated with date, time, toll charge, toll plaza name and delivered to the vehicle owner's linked mobile number.
Two-wheelers, autorickshaws and other small vehicles that do not have to pay toll presently do not require the FASTag. FASTags will be mandatory for all other vehicles on all National Highways of India from 15th December 2019.